Let your work speak for you, Be the next big thing!
Important 2020 ADDY Awards Dates 
Entries 
Jan 1, 2020: $35 for single entry, $50 for campaign 
Jan 1 – Jan 10: $45 for single entry, $60 for campaign 
Judging 
Jan 16 & 17 @ Serendipity Labs 
Gala 
Feb 8, 2020, 6 PM @ The Alfond Inn at Rollins College 
The American Advertising Awards, home of the ADDY® Award, is one of the industry's largest creative competitions, attracting nearly 35,000 professional and student entries each year through competitions offered through local AAF clubs.
The mission of the American Advertising Awards is to recognize and reward the creative spirit of excellence in advertising.
Conducted annually by the American Advertising Federation (AAF), the local Ad Club phase is the first of a three-tier, national competition. Concurrently, all across the country, local entrants vie to win ADDY Awards – recognition as the very best in their markets. At the second tier, local ADDY winners compete against winners from other local clubs in one of 15 district competitions. District ADDY winners are then forwarded to the third tier, the national stage of the American Advertising Awards.
Entry in your local Ad Club competition is the first step toward winning a national ADDY.
Ad 2 Orlando is the young professional affiliate of the American Advertising Federation Orlando. What that means is you get to test your skills locally while having a national support system to back you up. After all, Ad 2 is a group of forward thinking and forward moving people looking to make a difference, both professionally, personally, and throughout the community.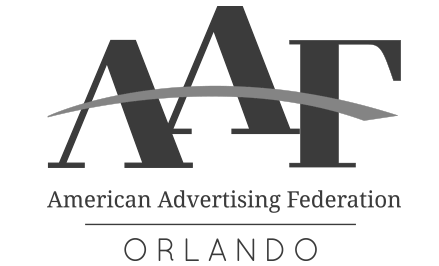 Follow Us
Meet some of our members and keep the conversation going. Find out more about Ad 2 Orlando, our members, and upcoming events by following us on our social media platforms and  subscribing to our newsletter.
"Ad 2 has opened a lot of doors for me - job opportunities, freelance work, and some really great like-minded friends. You don't realize all the benefits until you're talking to people who have different connections and know of new opportunities. Everyone is pretty plugged-in, it's a cool experience, especially when you're looking for opportunity yourself."